Mercedes Benz B-Class Owner's Manual
---
You can find 9 different owner's manuals for the Mercedes Benz B-Class on this page that are in the PDF format.
Yearly B-Class Owner's Manuals
The years available stretch from 2014 through to 2022 and to view the manual you just click the name underneath.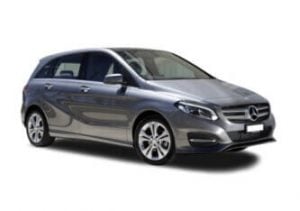 About The B-Class
Introduced in 2005 the Mercedes Benz B-Class range of multi-purpose vehicles has evolved through 3 generations of design.
The B-Class is very much a larger version of the A-Class from the same German automobile manufacturer.
It's a great selling model for Mercedes and ideal for the American region who finds the A-Class too small for their taste in an automobile.
The only problem with the car is that it has a lot of features and can be difficult to navigate without an owner's manual.
Luckily, this page features many of them in PDF format will give you all the information that you need to know about your new vehicle.
B-Class's are a rare example of a front-wheel-drive car from Mercedes who tend to only produce rear-wheel-drive cars.
Although the car is small compared to the sedans that it competes with within the market it still packs some amazing technology.
Since the original version that was delivered to customers in 2015, the car has always had ABS, ESP, traction control and an active lighting system as standard.
Then in 2018, the B-Class range debuted the start-stop system that helped get the cost down of internal combustion engine vehicles.
With the introduction of the second generation in 2011, the car gained the option of a 6-speed manual or 7-speed dual-clutch manual transmission.
It wasn't until early 2015 that customers could opt for an all-electric drive-train for their B-Class which boasted an impressive range of 124 miles.
Most recently the release of the third-generation model saw the transmission option get much better again along with a small capacity turbocharged engine for the Chinese market.