Mercedes Benz CLA Owner's Manual
---
You can find 10 different owner's manuals for the Mercedes Benz CLA on this page that are in the PDF format.
Yearly CLA Owner's Manuals
The years available stretch from 2014 through to 2023 and to view the manual you just click the name underneath.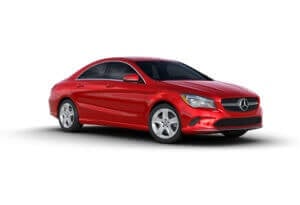 About The CLA
The Mercedes Benz CLA is a luxury fastback subcompact executive car that began production in 2013.
Steering away from tradition this Mercedes is a front-wheel-drive-only car unlike the rest of the company's range.
It's smaller than the C-Class and features a much more aerodynamic appearance with a long boot to the rear.
In the first generation line-up, an AMG trim was offered that continued into the second generation redesign.
The 45 AMG trim featured a 2-liter twin-turbo engine capable of taking the car from zero to sixty miles per hour in just 4.5 seconds.
Alongside the 375bhp engine is a 7-speed semi-automatic transmission, four-wheel drive and sports suspension and brakes – inside customers found sports seats and red seatbelts.
However, this type of car can be quite complicated to operate at first; luckily there is an owner's manual that will provide you with all the information you need to know about your new CLA.
Safety ratings for the first generation were great with the car scoring 5 out of 5 stars with the only slight downside of the car's safety being towards pedestrians.
Customers choosing the layout of their Mercedes Benz CLA have always been able to choose the standard fastback or the rare shooting-brake version.
A shooting-brake car layout is a rarer configuration that stems from a time when horse-pulled carriages used to take shooting parties out.