Mercedes Benz EQA Owner's Manual
---
You can find 4 different owner's manuals for the Mercedes Benz EQA on this page that are in the PDF format.
Yearly EQA Owner's Manuals
The years available stretch from 2021 through to 2024 and to view the manual you just click the name underneath.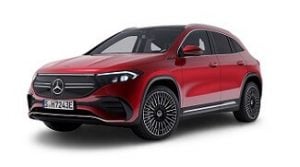 About The EQA
German giant Mercedes-Benz launched their all-electric EQ range back in 2016 and since then the range has been greatly expanded to include almost a dozen or so models. Among the newer of these models is the subcompact luxury electric crossover, the Mercedes-Benz EQA.
The EQA is essentially the electric counterpart to the internal combustion engine model, the Mercedes-Benz GLA. However, because of the presence of the large battery back in the base of the car, the EQA actually sits a bit higher than the GLA, and it's also a little longer, which gives you more SUV-like proportions, even though it's technically a compact crossover.
Reviewers have discussed how the Mercedes-Benz EQA provides a larger and more practical alternative to models like the Tesla Model 3. Single charge range on the EQA goes from 249 miles up to 336 miles depending on which model you buy. While they all share a top speed of about 99mph, the EQA 350 4MATIC+ offers the best acceleration, getting from 0 to 60mph in just 6 seconds.
The interior features comfortable and supportive seats up front, premium-feel materials, and a large and clear infotainment screen and digital instrument cluster. One small complaint from some reviewers regarding the interior features has been the over-sensitive steering wheel-mounted controls, and the lack of a wireless smartphone connectivity option, which litters the center console area with a connector cable. The rear seats are also cramped and are situated quite low in order to provide good headroom.
While not possessing the high horsepower numbers of Tesla models, the Mercedes-Benz EQA is nimble and agile on the road, offering pleasing driving dynamics. Fans of the drive will therefore enjoy using it, but those who want more gadgetry and technology features would be better off looking at something like the Hyundai Ioniq 5.