Nissan 370Z Owner's Manual
---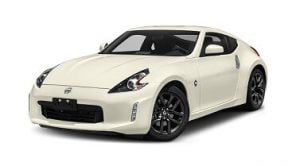 About The 370Z
The Nissan 370Z is a 2 door 2 seater sports car that is also known as the Fairlady Z Z34 in some regions.
The car was a replacement for the Nissan 350Z which appeared very similar though the 370Z's design is slightly curvier and aerodynamic.
Eventually, this model was replaced by the more modern version, the 400Z in 2021.
Mechanically the 370Z has been completely redesigned with no part left without improvement since the 350Z.
Since production began in 2009 the car has been through 2 generations of redesign with lots of different versions being made available to customers.
In terms of engine choices, you have always been limited with the 370Z, a 3.7 litre V6 is the only option.
You do have more freedom with transmission though, you can choose a 7 speed automatic or 6-speed manual.
There is 2 main versions that you can choose of this car, the Coupe (hardtop) or the Roadster (with retractable soft top).
The Roadster is also superior in the way of technology, including a better entertainment system and hands-free connectivity for mobile devices.
The Sport package brings with it larger, stronger alloy wheels and a limited-slip-differential for better performance.
The Navigation package offered by Nissan on the 370Z adds a touch screen navigation and traffic display on the dashboard.
The Nissan 370Z is a common sight in many video games, such as the Need for Speed franchise and the Forza franchise.