Nissan Altima Owner's Manual
---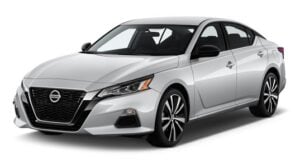 About The Altima
Replacing the Bluebird range, the Nissan Altima took over as the manufacturer's mid-sized sedan in 1992.
The car is now in its 6th generation of design, for the first 5 generations the production took place in the United States but recently a plant in China was opened.
As the owner, it's important to know how to care for your vehicle and keep it in excellent shape.
These owner's manuals provide you with all of the information that you need to maintain and operate the vehicle safely.
When released the Altima was available with only one choice of engine (2.4-liter gasoline) and a 5-speed manual or 4-speed automatic transmission.
The first generation also shared a platform with many other Nissan models such as the Quest and Murano.
Choices of the engine remained limited until 2002 when the third generation was released and performance version SE-R was released with a 3.5-liter V6.
In 2007 the Altima added a hybrid option which made it the first Nissan to allow this option to customers.
The fourth generation's hybrid option was licensed from Toyota and the electric motor put out an additional 40 horsepower.
After 4 years of poor sales, the hybrid option was discontinued and instead the engine efficiency was improved overall.
The most recent 2 generations (2013 onward) only offer customers a CVT transmission as a way to improve fuel economy due to lost power between switching of gears.
Although nowadays customers do have a much larger list of trim options that include:
Edition One
Platinum
SR
Platinum
S
SL
SR
SV
SE
GLE
GXE
SE
SE-R
SR
XE
FAQ's
Q: How do I get a Nissan owner's manual?
A: You can find many of the owner's manuals for the Nissan model this century featured on this site free of charge. You can also find them on the manufacturer's website but they can sometimes be hard to find and then view on your browser.
---
Q: Do Nissan Altimas come in manual?
A: The most recent Altima (as of 2021 and probably going forward) is only available with a CVT. This sort of transmission varies as you drive and usually works well with modern hybrid technologies.
---
Q: What causes a Nissan Altima to not start?
A: The easiest fix would be a flat or dead battery. Try changing your battery using jump leads and a donor car. If this fails then chances are it is more sinister and could be the alternator or starter motor causing the problem.
---
Q: How long do Nissan Altimas last?
A: Nissan cars are known for their reliability and many last for longer than 200,000 miles when properly serviced and maintained.
---
Q: What is bad about Nissan Altima?
A: In recent years the manufacturer has limited customers to only have one choice of transmission, a CVT. This CVT is known for having delayed throttle response and shuddering during acceleraton.