Nissan X-Trail Owner's Manual
---
You can find 14 different owner's manuals for the Nissan X-Trail on this page that are in the PDF format.
Yearly X-Trail Owner's Manuals
The years available stretch from 2010 through to 2023 and to view the manual you just click the name underneath.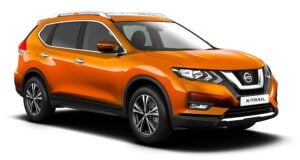 About The X-Trail
In the year 2000, the first Nissan X-Trail came onto sale and was produced in several plants located around Asia.
They built the compact crossover SUV on the same platform as the Primera, Sentra and Almera.
Originally the first model could be purchased fitted one of four trims, SE, Sport, SVE and T-Spec – all of which are covered in the Nissan X-Trail owner's manuals on this page.
As you can imagine, sharing a chassis with several road-going cars would suggest that this automobile was not designed to go off-road.
That assumption is correct but thanks to an upgrade you can make the car slightly more off-road capable – adding a four-wheel-drive system with locking differentials.
Obviously, this addition would add some serious weight but would allow the car to get better traction, useful if you live on a farm for example.
The X-Trail is now in its third generation of design that was introduced for the first time in 2013.
Among the more obvious changes in the design of the car, it went from being a boxy utilitarian sort of SUV to a more curved and stylish one.
Buyers are spoilt for choice with this new model and can choose from a wide variety of trims:
Accenta
Acenta Premium
Acenta SE
N-Connecta
N-Design
N-Tec
N-Vision
N-Vision SE
Tekna
Tekna SE
Visia
This new third-generation X-Trail was now built on the Nissan CMF-C/D platform that was shared with many more models such as the Renault Mégane and the Nissan Qashqai.
For the first time, the crossover SUV had the option of a hybrid drivetrain that could capture lost energy during braking and use that when accelerating again.
Learning how to use the various hybrid versions of the car is also covered in the various Nissan X-Trail manual PDFs available on this site for free.
In recent years much of the sales volume has been in the Chinese region thanks to a booming middle-class in that country.