Nissan Sentra Owner's Manual
---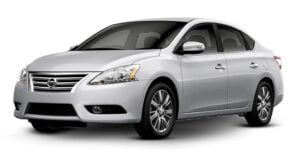 About The Sentra
The Nissan Sentra's beginnings started way back in 1982 when the firm rebadged a Nissan Sunny for the export market.
This Sentra eventually replaced the Sunny in 2006 when it hits its sixth generation of design.
It started as a compact vehicle but as it grew over the decades it was recently reclassified in 2007 as a mid-sized compact sedan due to interior volume.
Original engine sizes back in the 1980s were around the 1.5-liter area but as the car grew larger and heavier so did the engine sizes and power output.
The most recent release of the Sentra in 2019 offers a 1.6 or 2.0-liter gasoline engine mated to a 6-speed manual transmission or CVT.
It also shares its platform with many Renault and Nissan models such as the Nissan Rogue and Renault Espace.
Modern versions come in a variety of trims including a sporty SR level with all trims coming in a charcoal grey interior color scheme.
The "S" trim brings with it a modern infotainment system with touch screen controls and Bluetooth connectivity.
Then the SR trim comes with 18-inch alloy wheels and a leather interior with premium surround sound speakers.
When you purchase a new or used Sentra, it's important that you know how to maintain and take care of it.
That means knowing the proper way to store your car in the winter months or when not driving it, understanding how to change your oil, and more importantly for some people – knowing where the owner's manual is located.
If you're looking for Nissan Sentra owner's manuals online, then you can find them all on this page archived by year.
FAQ's
Q: What oil does the Nissan Sentra take?
A: According to the owner's manual, Nissan recommends that the Sentra is filled with Mobil1 full synthetic 5W-30 oil.
---
Q: How do I update my Nissan Connect software?
A: You can update the Connect software your Nissan Sentra by connecting to a WiFi network with internet access and then selecting Menu -> Info -> System Information -> Software Update.
---
Q: Does the latest Nissan Sentra come with a manual transmission?
A: The most recent generation Sentra (as of 2021) is available with a CVT or 6-speed manual transmission.
---
Q: What does the sport button do on a Nissan Sentra?
A: By selecting sport mode in your Sentra the rev limiter is lifted and the eco-friendly overrides that attempt to improve your fuel-economy are turned off. This unlocks the maximum potential of the engine and ensures that you can accelerate as hard as the car possibly can.
---
Q: Is it bad to always drive in Eco mode in a Sentra?
A: Quite the opposite. Driving in eco-mode all of the time would have less wear on the car as the gear changes at a lower rev, putting less stress on the engine and transmission.