Nissan Murano Owner's Manual
---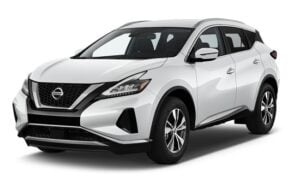 About The Murano
In mid-2002 the Nissan Murano was introduced as a mid-sized crossover SUV and shared its platform with the Nissan Altima.
These owner's manuals will show you how to change your oil, what fluids are needed for your vehicle, and tips for driving during different seasons.
The convertible version of the Murano is known as the CrossCabriolet and was available between 2011 and 2014.
Originally the choices of engine included an inline 4 cylinder 2.0 litre unit and a 2.5 litre V6 mated to a CVT.
Alongside the standard choice of engines, a high-performance variant of the car was available called the GT-C which could achieve 305 bhp and a 0-60 in less than 8 seconds.
The second generation of the Murano brought a new turbo-diesel option and standard 6-speed automatic transmission for those who aren't fans of the CVT that was forced on previous customers.
New technology onboard included electronic stability control, four-wheel disk brakes with ABS and a touchscreen navigation system.
The third generation gave customers the new option of going hybrid with a battery under the center console and an audio alert for pedestrians to alert them to the car's presence when in electric-only mode.
When ordering this newer model you could choose from one of six different levels of trim including: