Chevrolet Equinox Owner's Manual
---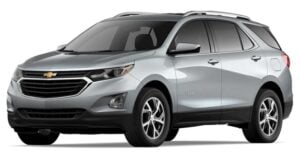 About The Equinox
Production of the Chevrolet Equinox started in 2004 with models released in the 2005 model year to replace several other SUV ranges from the manufacturer.
We have collected these owner's manuals to help you get the most out of your Equinox.
You will learn how to use the safety features, find the fuel tank and fill it up with gas, as well as other useful tips.
The Equinox was designed to replace the Tracker, Blazer and Captiva ranges and bring the potential customers all into one line.
Buyers may notice that the Pontiac Torrent is the same vehicle which is true as it uses the same platform and is built in the same plant.
Chevrolet has used the Equinox range to experiment with different fuel types in an attempt for it to lead the way in green technologies.
Hydrogen fuel cells, natural gas and all-electric versions of the Equinox have either been available as options or sold through third-party companies who did the conversion themself.
The standard range includes engine sizes from 2.5-litre through to a 3.5-liter in gasoline and diesel variations.
Modern generations have introduced smaller engines in an attempt to help sales in emerging markets that typically tax larger engines heavily.
Among these modern versions are several popular trims that allow customers to tailor the features of the model based on a budget such as:
L
LS
LT
LTZ
Premier
Sport
Over the generations of the Equinox Chevrolet has expanded the transmission options to buyers and the latest version allows for a 6 or 9 speed automatic driving the front wheels.
in 2017 Holden of Australia launched their own version of the Equinox and kept the badge the same for 3 years until a lot of the lines including this one were discontinued.
FAQ's
Q: Where is the Chevrolet Equinox assembled?
A: All of the modern Equinox models (2018+) are assembled in either Canada, China, Mexico or Argentina.
---
Q: Where is the traction control button on a 2020 Chevrolet Equinox?
A: On the center console behind the transmission stick, you can find the traction control button that disables the system temporarily.
---
Q: Do Chevrolet Equinox's have a lot of problems?
A: The most common reported problem with the Equinox line is the excessive oil consumption of the engine. Ensure you service your model regularly in line with what Chevrolet recommends (3,000 - 5,000 miles for traditional oil, double that if using synthetic oil).
---
Q: Does my Chevrelot Equinox need synthetic oil?
A: The manufacturer recommends the use of synthetic oil and by doing so you can go twice as long before having to change the filter and oil.
---
Q: Where is the oil filter on a 2020 Equinox?
A: You can find the oil filter for the 2020 Chevrolet Equinox just in front of the black metal oil pan underneath the engine.