You can find 8 different owner's manuals for the BMW X3 on this page that are in the PDF format.
Yearly X3 Owner's Manuals
The years available stretch from 2016 through to 2023 and to view the manual you just click the name underneath.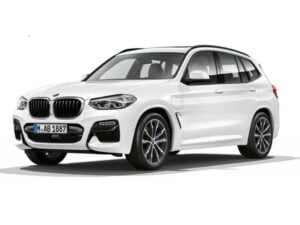 About The X3
With the successful launch of the BMW X5 in 1999, the German car manufacturer released a smaller SUV called the X3 in 2003.
Its classed as a compact luxury crossover SUV marketed as a Sports Activity Vehicle mainly due to it being designed for on-road use rather than off-road.
The X3 owner's manuals on this page are a great resource for people who own the car.
They contain information about how to use and maintain the vehicle, as well as some warranty information.
The manual PDFs also include tips on how to care for the interior of your car and features detailed illustrations that cover everything from safety features to engine components.
When compared to a true off-road capable vehicle like the Jeep Wrangler this car is lighter but lacks any off-road equipment.
Production of the car originally took place in Austria before manufacturing plants were opened in the USA, India, Egypt, Russia, Thailand, Indonesia and South Africa to cope with worldwide demand.
When customers got their hands on the first BMW X3's they could choose from a range of petrol and diesel engines, an automatic or manual 6-speed gearbox though were forced into a four-wheel-drive platform only.
With the introduction of the second generation model in 2011 the choice of having a rear-wheel-drive drive-train became available for the first time a year afterward.
Moving onto the third generation of design in 2017 BMW added more manufacturing plants in China and Brazil to take advantage of those emerging markets.
A plug-in hybrid option became available for the first time and a wider range of smaller engines was also introduced to help the car sell in China.
You could now also choose from one of four levels of trim in the car including M, M Sport, M40i, SE or xLine.
Within the BMW SUV range, you can find models of all sizes including the smallest subcompact crossover SUV the X1.
Underneath the most recent models of BMW X3, you will find the platform that it shares with many other cars such as the X5, 5 Series and Toyota Supra.
Sales of the SUV have climbed on average almost a year since its introduction and BMW continues to open up more production to meet demand.