Renault Modus Owner's Manual
---
You can find 9 different owner's manuals for the Renault Modus on this page that are in the PDF format.
Yearly Modus Owner's Manuals
The years available stretch from 2004 through to 2012 and to view the manual you just click the name underneath.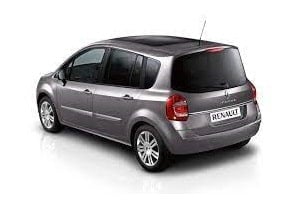 About The Modus
The Modus is the perfect example of a multi-purpose vehicle built by the French car manufacturer Renault in Valladolid, Spain.
Renault showcased the Modus at the 2004 Geneva Motor Show as a much taller version of the Clio III. As a result, the Modus shared a lot of its attributes with the Clio, but Renault was quick to market it as a higher-end version of the ever-popular Twingo.
The Modus was created with family and space in mind, and they set out to make the very most of every single area of the car. An example of this is the passenger seat storage, The front chair can be lifted forward easily to allow for a storage unit underneath.
This Modus model also has a unique feature, the 'boot chute' here, items can be put into the boot via a small hatch in the center of the tailgate, meaning that the whole back door can be kept shut so as not to disturb luggage.
2008 saw a facelift and out of this, the Grand Modus was born. A full 4,034 mm longer than its predecessor, it proved so popular that Renault eventually replaced the standard Modus with its larger counterpart in the UK. This discontinuation spread across many lines, and numerous vehicles were affected, namely the Espace, Kangoo, Laguna and Wind.
The Modus was the first small car on record to ever achieve a full 5 stars for passenger safety securing its reputation as an excellent little family car. The safety package included 6 airbags, reinforced pillar supports and child seat fixing points on all the seat belts.