Cupra Formentor Owner's Manual
---
You can find 6 different owner's manuals for the Cupra Formentor on this page that are in the PDF format.
Yearly Cupra Formentor Owner's Manuals
The years available stretch from 2019 through to 2024 and to view the manual you just click the name underneath.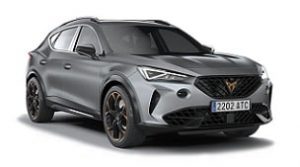 About The Cupra Formentor
The Cupra Formentor is a compact crossover SUV that is manufactured by Cupra, SEAT's performance division. The model debuted in 2020. Since its release, there has only been a single version.
It is currently built on the Volkswagen Group MQB Evo platform and features the same 5-door layout found on most crossovers. It is driven by a choice of either front-wheel or all-wheel drivetrains depending on trim levels and engine selection.
In the Cupra lineup, it sits below its mid-size SUV sibling, the Cupra Ateca.
The Cupra Formentor goes up against a number of performance crossovers like the Audi Q3, Alfa Romeo Stelvio, and Porsche Macan.
Cupra offers six trim levels. These consist of the base V1 and V2, followed by the more performance-oriented VZ1, VZ2, and VZ3 variants.
There is also the premium version called the VZ5, which is intended to compete with other high-performance models like the Audi RSQ5. This version was also released with a highly limited Special Edition version. Cupra announced that only 999 models would ever be made.
The engine options available are based on the trim level chosen. They consist of three petrol engines, a petrol plug-in hybrid (PHEV) powertrain, and a single diesel option.
The smallest of these engines is a 1.5 L TSI inline-4 petrol found in base models. The most powerful is the 2.5 L TFSI inline-5 found in the VZ5 version.
For the hybrid variant, the Cupra is powered by a 1.4 L TSI inline-4 and a 13 kWh battery. The diesel version is outfitted with a 2.0 L TDI inline-4.
The PHEV version has an estimated range of approximately 50 km in fully-electric mode.
Transmission options consist of a 6-speed manual or direct-shift gearbox (DSG), as well as a 7-speed DSG transmission.