Alfa Romeo Stelvio Owner's Manual
---
You can find 7 different owner's manuals for the Alfa Romeo Stelvio on this page that are in the PDF format.
Yearly Stelvio Owner's Manuals
The years available stretch from 2017 through to 2023 and to view the manual you just click the name underneath.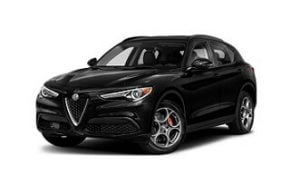 About The Stelvio
The Alpha Romeo Stelvio is a crossover SUV that has astonished the market with its staggering looks. Generally, the SUV space is very competitive and it can be hard for companies to make their latest model stand out. But it seems this rule just doesn't apply to the Italians and their work on the Stelvio is just beautiful. However, this beauty doesn't come without its flaws. The car is very impractical for an SUV and the cabin leaves much to be desired.
It is built on the FCA Giorgio platform that is also used under various other lines across the Fiat companies including:
Under the hood, the Alfa Romeo Stelvio is equipped with a four-cylinder turbocharged engine, producing a respectable 280 horsepower. This is translated via an eight-speed automatic gearbox. The Stelvio isn't going to break any world records in terms of speed, but it'll certainly be more than enough for everyday tasks, such as joining the motorway or overtaking.
One of the best features in terms of performance has to be the Stelvio's suspension. With the help of some huge wheels, the Stelvio is capable of dampening pretty much any bump that the road has to offer. This allows all passengers to ride in comfort. Couple this with sublime steering, which makes the car feel light and agile, and Alfa Romeo truly is on to a winner.
However, there are some problems with the cabin. As an SUV, you would expect more than enough space for several passengers with a decent amount of luggage. However, the Alfa Romeo Stelvio simply doesn't offer this, and competitors offer far more storage capacity and legroom.
Despite this, the cabin of the Stelvio is a lovely place to be. Drivers will be pleased to see leather upholstery, coupled with a minimalistic and stylish dashboard, full of the latest technology. This includes an 8.8-inch touchscreen infotainment centre as standard.