Subaru Ascent Owner's Manual
---
You can find 7 different owner's manuals for the Subaru Ascent on this page that are in the PDF format.
Yearly Ascent Owner's Manuals
The years available stretch from 2019 through to 2024 and to view the manual you just click the name underneath.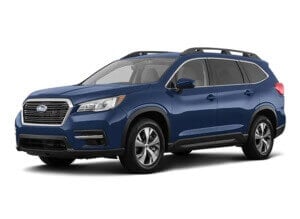 About The Ascent
First produced in late 2018 the Subaru Ascent is the auto manufacturer's mid-size three-row SUV capable of seating 7 or 8 occupants.
These owner's manuals will walk you through everything from understanding your dashboard display to adjusting your seat.
They also includes information on safety features, so you'll never have any doubts about what to do in an emergency situation while driving your new car.
The SUV is the flagship product for Subaru with the SUV market exploding in size as people move away from sedans and minivans for their family car.
In the Philippines, the car is known as the Evoltis due to copyright issues. This name has led speculators to expect an all-electric or hybrid option is on the cards as the name is close to EV, the abbreviation of Electric-Vehicle.
The appearance of the car is much like a longer wheelbase version of the Subaru Outback that has been a popular station wagon since the 1990s.
Under the hood, the engine of the Ascent is a turbocharged 2.4-liter boxer with only one choice of transmission in the form of a CVT.
Safety ratings for the car are fantastic, achieving "good" for most with "superior" for the safety of occupants in front-first crashes.
The use of a boxer engine may have been partly responsible for the great safety ratings because of how well it keeps the center of gravity down in comparison to tall engine layouts in competing SUVs.
Keeping things simple the Japanese automaker offers the modern Ascent with one of three trims: Limited, Premium or Touring.
Sales have been fantastic and in line with other popular SUVs that were already on the market.