Subaru Forester Owner's Manual
---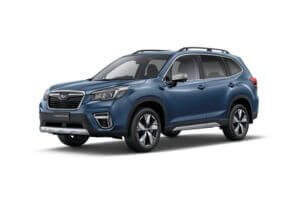 About The Forester
Since its first model rolled off the production line in 1997 the Subaru Forester has acted as the ideal crossover between Impreza and full off-road truck.
These owner's manual PDFs will cover all you need to know about your car, from how it works with your smartphone to maintenance tips.
Its full-time 4 wheel drive and range of engines with ample power have made it perfect for those who want a car that can tackle light off-road work while being capable of driving on roads.
The boxer engine that Subaru includes with most of its models gives the driver plenty of ready-to-go power under their foot and low maintenance costs.
This car has gone through 5 generations of redesign with special editions being released among all of those targeting different specialist markets.
Special edition models for mountain rescue for example are great ways to conquer untapped markets for Subaru, offering a ready-to-go cost-effective solution for emergency services.
The introduction of sports versions such as the XT and XTI include elements inspired by the rally cars Subaru competes within the World Rally Championship.
FAQ's
Q: Are Subaru Foresters expensive to repair?
A: According to research done on owners of the Forester, it is on the higher end of the scale when you compare maintenance costs. This could be down to the boxer engine layout that is known for being hard to access as the replaceable parts are on the sides of it.
---
Q: How do I update my Subaru Forester software?
A: To update the software on the infotainment system you first need to connect to WiFi with internet access. Once connected you can then go to the system general settings, find the information section and then click 'Check for Update' - if an update is available click 'Download Now' to complete.
---
Q: Does Subaru still offer a manual transmission for the Forester?
A: All of the current Forester models come with a CVT which gives the driver a set of paddle shifters behind the steering wheel to use it in a semi-manual way without a clutch.
---
Q: How many miles will Subaru Forester last?
A: Subaru's are known for being reliable and if cared for and serviced regularly the Forester is said to be able to achieve 300,000 miles in its lifetime.
---
Q: Why is the Subaru Forester so popular?
A: The Subaru Forester has been an attractive car since its introduction in the 1990s as it blends the benefits of an SUV with the benefits of a normal road-going car. Much like the rest of the Subaru range, it has great handling and traction thanks to its low boxer engine mated to a four-wheel-drive system.