Subaru Impreza Owner's Manual
---
You can find 10 different owner's manuals for the Subaru Impreza on this page that are in the PDF format.
Looking For Mechanical Information?
An owner's manual is usually packed with guides on how to operate the car safely and how to maintain it.
If you require mechanical information (for fixing the car yourself for example) then you may need a workshop, service or repair manual instead.
Subaru Impreza Service Manuals »

Yearly Impreza Owner's Manuals
The years available stretch from 2015 through to 2024 and to view the manual you just click the name underneath.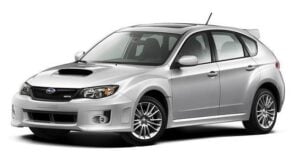 About The Impreza
Launched in the early 1990s on the back of the Legacy's success, the shorter Subaru Impreza used the same platform but with minor tweaks.
It has gone through many changes over the years, but it is still one of the most sought-after cars on the market today.
If you own a Subaru Impreza and need to know how to use it, then these owner's manuals will help.
This car also took over from its predecessor as the company's flagship rally car in the World Rally Championship driven by Colin McRae.
The move proved successful and the Impreza went on to win many rally championships bringing huge attention to the model.
Much like the rest of the Subaru range, this car has a boxer engine up front powering all four wheels full-time.
This arrangement has many benefits mainly concerning the car's center-of-gravity, leading to a better handling car on and off the road.
Better handling also brings the ability to respond to potential accidents quicker and increases the chance of avoiding them.
Some models of the Impreza were front-wheel-drive, such as the entry-level 1.6-liter version.
On the back of the success of the car in motorsport, the Japanese automobile manufacturer focused heavily on high-performance versions of the car.
Trims including the WRX and STI have created a huge demand for the car and the company continues to cram as much technology and power as possible into the compact car each generation.
In 1997 the Forester crossover SUV was launched using the Impreza as its base, it had higher ground clearance and a taller roof.