Suzuki Celerio Owner's Manual
---
You can find 10 different owner's manuals for the Suzuki Celerio on this page that are in the PDF format.
Yearly Celerio Owner's Manuals
The years available stretch from 2014 through to 2023 and to view the manual you just click the name underneath.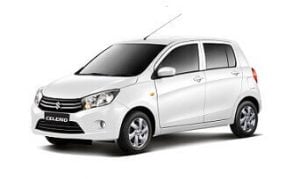 About The Celerio
In 2014 the production of the Suzuki Celerio city car began in India, Pakistan and Thailand.
The car is on sale in many regions including Europe (but not North America) but does especially well in developing markets such as India.
These owner's manuals are intended to provide you with complete instructions concerning the installation and use of your Celerio.
It has been prepared as a reference guide for those who wish to do their own servicing or repair work on their vehicle, as well as those professional technicians who will be performing the maintenance and repairs.
It's a very basic vehicle that boasts a small price tag, ideal for low-income demographics and markets.
You can find the Celerio available with either a gasoline or diesel engine and some of the examples are fitted with a manual, CVT or clutchless manual transmission.
In Pakistan, the car is known as the Cultus, a model name that was known internationally before this model took over from it.
It has also replaced the Alto model in many markets, a tiny Kei car with a 700cc engine.
The international version of the car on sale scored 3 out of 5 stars with crash-testing agency Euro NCAP in 2015.
For the lower-priced Indian version of the car, the Global NCAP agency awarded the car zero stars for safety.
Global NCAP stated that the shell of the Indian region-only Celerio was unstable and lacked any airbags.
In 2017 the diesel version of the Suzuki Celerio was discontinued in India due to low sales.