Toyota Matrix Owner's Manual
---
You can find 11 different owner's manuals for the Toyota Matrix on this page that are in the PDF format.
Yearly Matrix Owner's Manuals
The years available stretch from 2004 through to 2014 and to view the manual you just click the name underneath.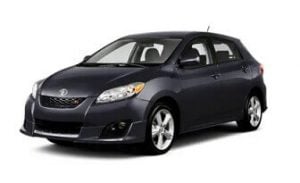 About The Matrix
Production of the Toyota Matrix began in 2002 as a joint venture between the Japanese automaker and General Motors.
The company took the Toyota Corolla platform and created this sporty hatchback version of the car.
General Motors created a similar model to be manufactured and marketed in the USA called the Pontiac Vibe.
The Matrix version went through two generations before being discontinued in 2013 in the USA and 2014 in Canada.
Safety ratings for the car were pretty high across both generations with only a few stars standing between it and the perfect score.
If you are interested in purchasing one of these Natrix models then these owner's manuals will help you learn about what to expect when owning your own vehicle.
First Generation Matrix
Original Toyota Matrix models were offered in a variety of trims with a sporty aspect to all of them.
You could even upgrade the drivetrain to an all-wheel drive if you desired although this was only available with the automatic transmission.
The top-of-the-line XRS trim boasted many sports features including disc brakes on all wheels and an engine that pushed over 100bhp per liter of displacement.
This car was also surprisingly versatile for a sporty hatchback with foldable rear seating that allowed for awkwardly shaped cargo.
Second Generation Matrix
The second-generation version of the Matrix was offered with very similar engine and transmission options.
From the outside, the car was roughly the same shape but with a simpler design and less of a sporty look.
In 2013 the car was discontinued with no planned replacement for the Matrix due to the explosive demand caused by the switch to crossover SUVs.