Volkswagen Eos Owner's Manual
---
You can find 10 different owner's manuals for the Volkswagen Eos on this page that are in the PDF format.
Yearly Eos Owner's Manuals
The years available stretch from 2006 through to 2015 and to view the manual you just click the name underneath.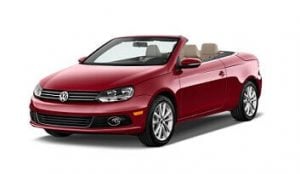 About The Eos
In 2006 production of the Volkswagen Eos began in Portugal.
All of the examples ever made of the sport compact cabriolet coupé model were assembled in this factory and exported around the world.
It was on sale in Europe, North America, Japan and Oceania within the first year that it was put into production.
The engine, automatic transmission, and all of the safety features are described in these owner's manual PDFs.
The Eos was brought in to replace the convertible version of the Golf, which was brought back to life in 2011 to eventually replace this line.
Underneath the car is the same platform used across many of the Volkswagen brands and put to use in cars such as the Golf and the Scirocco.
Its main feature is the five-piece sliding roof that can fold away into the boot at the flick of a switch.
It is also the only retractable hardtop car that also boasts an electronic sliding sunroof built into it.
The roof folds back in twenty-five seconds and makes use of the trunk space to store itself using a hydraulic system that does require maintenance.
2010 saw a mid-cycle refresh of the Volkswagen Eos that eventually reached customers in the 2012 model year.
New wheel designs as well as revised front and rear bumpers helped update the model to fall in line with the rest of the Volkswagen fleet.
In 2015 the Eos was discontinued as the German automaker switched their focus back to the Golf and launched a new convertible version of that model.