Volkswagen Scirocco Owner's Manual
---
You can find 10 different owner's manuals for the Volkswagen Scirocco on this page that are in the PDF format.
Yearly Scirocco Owner's Manuals
The years available stretch from 2008 through to 2017 and to view the manual you just click the name underneath.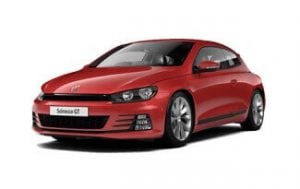 About The Scirocco
The Volkswagen Scirocco was launched alongside the Golf as the sportier coupe version of the car.
Both models were launched in 1974 with the Golf being the donor car, although engineers do state that most parts had been updated to make the Scirocco the more superior model.
Volkswagen intended the car to be a replacement for the Karmann Ghia coupe that had been running for the past 2 decades.
These owner's manuals contain information about safety precautions, specifications and part names for easy DIY maintenance.
Like the Beetle, it had a rear engine powering the rear wheels and needed a shift to the modern layout that followed the rest of the market.
The GTi version of this model beat the Golf GTi by months and wowed car buyers with its fuel-injected high-revving engine in a small and lightweight package.
Engines ranged from an entry-level 1-liter through to the more torquey (later) 1.7-liter GTi version mated to either a manual or automatic transmission.
In 1981 a second-generation Scirocco was launched and now boasted increased headroom for occupants and better aerodynamics.
It was a larger vehicle that required more powerful engines and a larger fuel tank made possible thanks to the smaller spare wheel.
Engine options were revised upwards with the GTi now being powered by a 1.8-liter powerplant that now pushed out 35% more power than before.
In 1988 Volkswagen introduced the Corrado as the replacement for the Scirocco, a 2+2 sports coupe that was also based on the Golf chassis.
2008 saw Volkswagen revive the Scirocco name once again being built on the same platform used under the Golf and the Eos.
Instead of a GTi version of this model being built the company decided to launch a GTS version instead that used the engine from the current Golf GTi.
An "R" version was also released in 2009 that featured a 2-liter turbodiesel engine that outputted over 200bhp to the front wheels.