You can find 13 different owner's manuals for the Volvo V60 on this page that are in the PDF format.
Yearly V60 Owner's Manuals
The years available stretch from 2011 through to 2023 and to view the manual you just click the name underneath.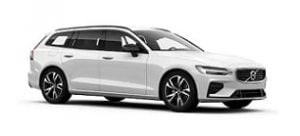 About The V60
Specified as a compact wagon, the Volvo V60 began production in the Autumn of 2010 – replacing the V70. Built upon the Volvo Scalable Product Architecture Platform, the first generation lasted from 2010 up until 2018. There were a number of limited edition versions that were each a variation on the basic V60.
An 'Ocean Race V60' was sold from 2014 (not to be confused with a number of older Volvo models), and was fitted with alloy wheels and a cargo cover with the route of the 2014 – 2015 Volvo ocean race on it. Four colors were available in this edition, including the popular 'ocean blue'.
V60 Polestar – This was a fully reworked V60 and developed by Polestar again, in 2014, with a retuned engine, upgraded suspension, 6 piston brakes, 20-inch alloy wheels and contrasting stitch. With black metallic or rebel blue as the initial colors available, closely followed by white and silver.
The V60 Plug-in hybrid was created with a diesel-electric configuration and was showcased at the Geneva Motor Show in 2011. As a result of a collaboration between Volvo and the Swedish energy company Vattenfall, these cars came with a reasonable price tag of approx. £40,000. A 6-speed automatic front-wheel drive, the V60 hybrid had a 5-cylinder 2.4 liter D5 turbo diesel engine producing 215 hp. Volvo fitted an electric motor to the rear axle which allowed for low emissions. Semi-automatic, the driver could control the usage of electric or diesel from inside the car, this came in the form of modes; Pure mode, Hybrid and Power.
For the Northern American and European markets, Volvo created the V60X, a cross-country version that had all-wheel drive. The second generation of this was built upon the Volvo SPA Platform along with the S60, S90, XC60 and the XC90.