Volvo XC90 Owner's Manual
---
You can find 18 different owner's manuals for the Volvo XC90 on this page that are in the PDF format.
Yearly XC90 Owner's Manuals
The years available stretch from 2009 through to 2023 and to view the manual you just click the name underneath.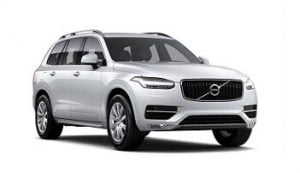 About The XC90
Since 2002 the Volvo XC90 has been produced and sold as a mid-size SUV and is now in its second generation of design.
The car is the big brother to similar ranges by the same Swedish manufacturer, the XC60 and the XC70.
To help you make an informed decision about whether this vehicle would be a good fit for you and your family, we have compiled all of the owner's manuals separated by model year.
First-generation models were a more heavy-duty version of the car with non-colour coded plastic bumpers and more ground clearance.
The car is a marvel of engineering winning it much praise from critics such as Jeremy Clarkson who is a fan and was quoted as saying the designers must have had children due to its practicality.
Engine choices for the first generation were vast, you could choose a nippy 2.5 litre turbo through to a torquey 4.4 litre V8.
Mated to the engine could be a 6-speed manual or 4, 5 or 6-speed automatic transmission.
The second-generation model was less off-road capable and made to be more of a luxury on-road crossover SUV.
Engine choices in the 2nd generation Volvo XC90 were reduced down to a 2 litre with the addition of a single or double turbo – gasoline or diesel.
Aside from the choice of engine customers can also choose from one of seven trims such as:
Inscription
Inscription Pro
Momentum
Momentum Pro
R DESIGN
R DESIGN Pro
Later XC90's are only available with 8-speed automatic transmission, with the option of front or all-wheel-drive.
The plug-in hybrid option made available in the 2nd generation adds an electric motor powering the rear which allows the car to run in an electric-only mode for 27 miles.