You can find 12 different owner's manuals for the Volvo V70 on this page that are in the PDF format.
Yearly V70 Owner's Manuals
The years available stretch from 2004 through to 2016 and to view the manual you just click the name underneath.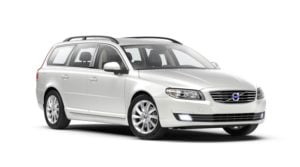 About The V70
The Volvo V70 was introduced as a replacement for the 850 and 940 models rolling them off the production line in 1996.
Original models in the 1990's were more of a sedan/station wagon but over the generations have morphed into a crossover.
The modern version of the car is built on the same platform shared by many Volvo's and Fords, such as the Volvo XC60 and Ford C-Max.
It's important to have access to the owner's manual for your Volvo V70 at all times.
This will not only help you learn more about your car but can also help with any repairs or upgrades if needed.
Many variations have been released for the V70 which Volvo aims to be an executive car with luxury expected whatever level of trim you choose.
You can opt for an "XC70" trim that features heavier body protection, up-rated and lifted suspension and fixed four-wheel-drive for an off-road capable executive family car.
You could even indulge in an "R" version that replaces the 850 T5 performance range with its heavily turbocharged 5 cylinder engine and a possible all-wheel-drive drive-train.
The "R" badged versions also sported a range of eye-catching body colors such as pearlescent gold and a two-tone interior.
In the more modern version of the car, you can find a T5 and T6 trim that features engines capable of pushing 280 bhp and 300 bhp to the wheels.
In 2009 tests for a plug-in hybrid system took place for the Volvo V70 but were never introduced as an official option when buying the car.