2003 Chevrolet Tahoe/Suburban Owner's Manual
---
You can view the 2003 Chevrolet Tahoe/Suburban Owner's Manual further down the page underneath the image of the cover.
Clicking on the "view full screen" button will take you to a full screen version of the manual.
Manual Cover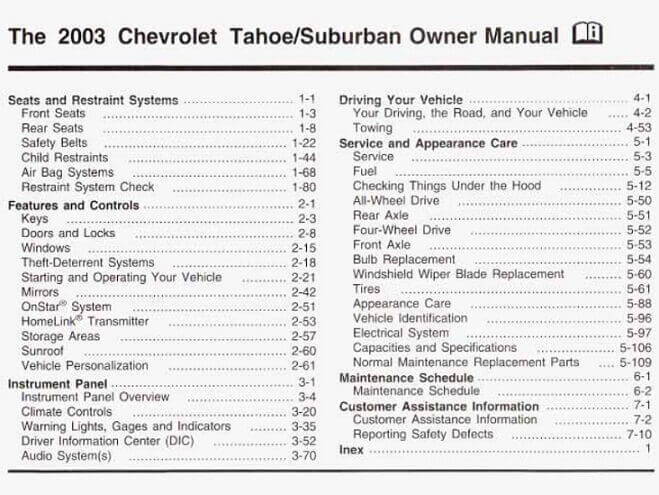 2003 Tahoe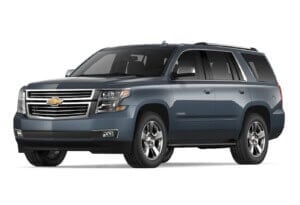 The Chevrolet Tahoe was first produced in the early 1990s and is a large impressive full-size SUV.
More recent models that are still available to buy new are in their 5th generation of design.
This 2003 model of the Tahoe is an example of the car's second generation of design and brought with it a new range of V8 engines but lost the option of a manual transmission.
The 2003 models like the one in this owner's manual included a range of new features such as dual airbags and a passenger sensing system.
Interestingly, the 2003 Cadillac Escalade uses many of the same components but is offered with more features as standard with a higher level of luxury.
Also included for the first time in 2003 in the Chevrolet Tahoe were adjustable brake and accelerator pedals with digital memory and XM satellite radio.
Tahoe's bought in 2003 also had a range of new paint colors available such as Sandalwood and Dark Spiral Gray both metallic.
This 2003 manual for the car starts with a section on the seating as it has got a lot more complex with added new features in recent versions.
The next chapter on features elaborate to the reader the controls and entertainment as well as basic car functions and how to properly operate them.
A section covering the instrument panel is also hugely important as it contains explanations on what certain warning lights mean that are flashing or lighting up.