2017 Chevrolet Equinox Owner's Manual
---
You can view the 2017 Chevrolet Equinox Owner's Manual further down the page underneath the image of the cover.
Clicking on the "view full screen" button will take you to a full screen version of the manual.
2017 Equinox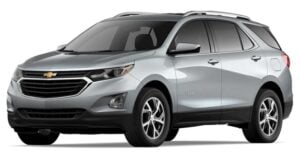 This 2017 Chevrolet Equinox is one of the last that rolled off of the production line as a mid-size crossover SUV.
In the following year, the Chevy was reclassed as a compact crossover SUV as it grew around 2% in size as it entered its third generation of design.
Its cousin model the GMC Terrain also went under the same transformation as both models share most of the same mechanical parts.
These 2017 models of Equinox did benefit however from a face-lift done the year before which focused mainly on its front end including a new grille.
For a rundown of all of the included features inside of the 2017 Chevrolet Equinox, you can take a look inside the official owner's manual.
A copy of that document is kept on this page and is freely accessible to anyone that wants to read it.
It is in the popular PDF format and so is easily downloaded to your computer or mobile device to access at a later date.
Within the first few pages, you will find a clickable table of contents that will transport you instantly to the page you require to answer your query.