2017 Toyota Prius Owner's Manual
---
You can view the 2017 Toyota Prius owner's manual further down the page underneath the image of the cover.
Clicking on the "view full screen" button will take you to a full screen version of the manual.
Manual Cover
Other Manuals For 2017 Prius
2017 Prius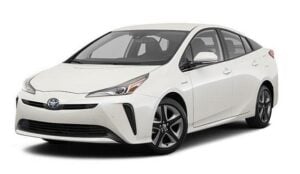 The 2017 Toyota Prius is an early example of the fourth-generation design that was brought in less than 24 months before.
It is classed as a compact car in terms of size but is also an alternative-fuel vehicle that has a reputation for embracing eco-friendly technologies.
You can purchase the Prius as standard gasoline or diesel-powered car or opt for technologies such as mild-hybrid, plugin-hybrid or even hydrogen fuel cells.
This 2017 model is the first of the Prius models to be built on the same platform as the compact Corolla, a car that has sold millions of examples throughout its lifetime.
With each generation that the Prius is redesigned it typically adds 10% onto the fuel efficiency, which is still true of this 2017 fourth-generation.
It is lighter and boasts improved technologies such as double-wishbone independent suspension that improves both the handling and the ride quality.
To take advantage of the new fuel-efficiency technologies inside the 2017 Prius you can consult the official manual.
A copy of the ower's manual for this car in the year 2017 exists on this page in PDF format, a file that is viewable using almost every device and computer available today.