2017 Toyota Prius Prime Owner's Manual
---
You can view the 2017 Toyota Prius Prime owner's manual further down the page underneath the image of the cover.
Clicking on the "view full screen" button will take you to a full screen version of the manual.
Manual Cover
Other Manuals For 2017 Prius
2017 Prius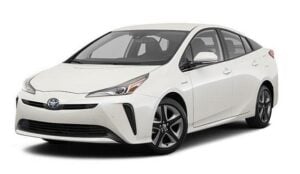 The 2017 Toyota Prius Prime is the PHEV version of the alternative-fuel car platform.
PHEV stands for plugin-in hybrid vehicle and basically means that it has a battery on board that can be charged from a mains power outlet and from regenerative braking.
The 2017 Prius Prime can drive on electricity alone without switching to the gasoline engine for 40 kilometers (or 25 miles).
Compared to the previous generation that ended in 2015, the 2017 model can drive for 40% longer on batteries alone thanks to advancements in technology.
2017 models are also some of the first of the third-generation of design and boast smaller yet more efficient electric motors as well as denser batteries leading to the increased range mentioned above.
This 2017 Prius Prime is also the first generation to share its platform with the massively popular Corolla compact car from the same Japanese automaker.
Making use of the hybrid technology included with the car can be tricky but using the owner's manual you can educate yourself to the point where you can make the most out of it.
Achieving high levels of fuel economy is only possible by consulting the manual and reading it thoroughly.
A copy of the official 2017 Prius Prime manual is embedded on this page and is freely available to view, download or even print off to keep a physical copy of.