2023 Volkswagen ID.4 Owner's Manual
---
You can view the 2023 Volkswagen ID.4 Owner's Manual further down the page underneath the image of the cover.
Clicking on the "view full screen" button will take you to a full screen version of the manual.
Manual Cover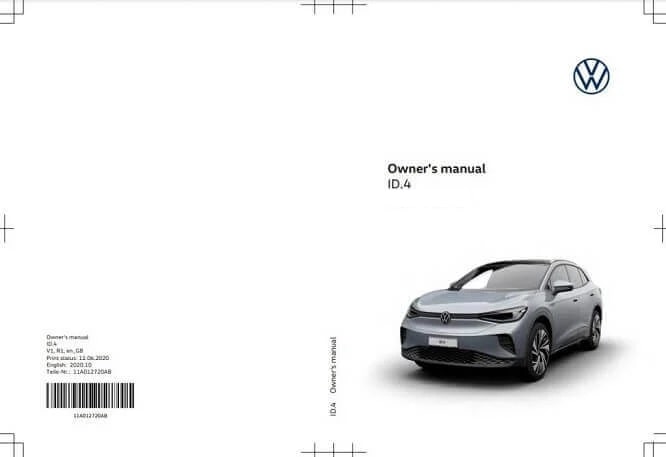 2023 ID.4 (incl. ID.5)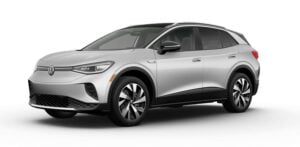 2023 models of the VW ID.4 are seeing a number of changes being made compared to the previous 2022 model.
Most importantly the German automaker has added a new base trim to the order sheet for the all-electric car.
This new "base" trim has a lower starting point than before, helping make the ID.4 a lot more affordable.
Unfortunately, this base model does have a lower range when fully charged than its more expensive sibling trims.
For American customers, the new 2023 VW ID.4 is being fitted with the Plug&Play system as standard.
The Plug&Play system makes it easier as an owner of an electric car to just roll up to an Electrify America charging station and simply plug it into a charger.
This means the charging can be done without the added frustration of installing and activating an app to simply charge your car up as was necessary before.
Another change for 2023 is the subtle design tweaks done to the outside of this electric Volkswagen.
Most notable are the new wheel designs that stand out along with the gloss black accents added to the car.
Inside the 2023 ID.4, you will find better materials than what was used in the car before along with more interesting color schemes.
In front of the driver is an improved all-digital instrument cluster delivering the car's data in an easier-to-read way.
This new version of the ID.4 is giving its closest competitors a real run for their money, including the Tesla Model Y and the Peugeot e-2008.