2021 Volkswagen ID.4 Owner's Manual
---
You can view the 2021 Volkswagen ID.4 Owner's Manual further down the page underneath the image of the cover.
Clicking on the "view full screen" button will take you to a full screen version of the manual.
Manual Cover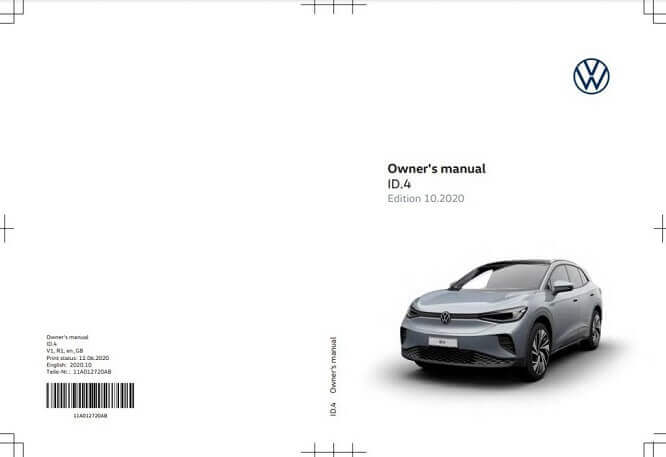 2021 ID.4 (incl. ID.5)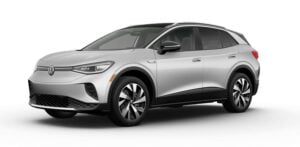 The Volkswagen ID.4 is the second of the new "ID" branded electric cars released by the German automaker.
First was the ID.3 in 2019, a compact car that uses the same chassis as this model.
Next up was this ID.4, a compact crossover SUV with the same chassis dimensions but a taller SUV-like body.
These crossover SUV models are extremely popular in recent decades thanks to their high-driving position and ample amounts of room in the cabin.
The ID.4 does not sit on a chassis capable of going off-road but thanks to its improved accessibility it can take on slight obstacles the ID.3 couldn't.
A spokesperson for Volkswagen in North America described the car as handling like a Golf GTI with the practicality of the Tiguan.
Production of this model started in 2020 with customers in Europe getting delivery of their first models in the 2020 model year and the USA a year later in 2021.
You can buy the ID.4 in one of 2 body styles, a 2-door coupe or a 5-door SUV.
Inside of the cab of the 2021 model you can find a touchscreen infotainment system with Apple Carplay and Android Auto built-in to sync with your devices.
Drivetrain options include a four-whee-drive or rear-wheel-drive version with varying ranges, from 215 miles to 324 miles.
2021 saw the car earn the award of "World Car of the Year" chosen by automotive journalists from 24 countries.