Volkswagen ID.4 (incl. ID.5) Owner's Manual
---
You can find 4 different owner's manuals for the Volkswagen ID.4 (incl. ID.5) on this page that are in the PDF format.
Yearly ID.4 Owner's Manuals
The years available stretch from 2020 through to 2023 and to view the manual you just click the name underneath.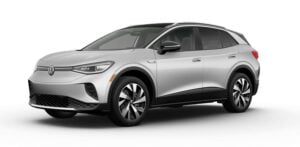 About The ID.4
Production of the Volkswagen ID.4 began in 2020 as the second model in the ID electric-car range from the German automaker.
European customers got the first delivery of the car in 2020 and North American customers had to wait until 2021.
These ID electric cars are being built on a new platform called MEB and are shared among other brands such as Skoda and Audi.
There are many features to love about this new model, all of which are covered in detail within each model year's handy owner's manual.
It started with the compact car the ID.3 that shares many of the same dimensions as it uses the same chassis, except this model has a taller body.
Another popular all-electric car that uses this platform underneath itself is the Skoda Enyaq.
It is classed as a compact crossover SUV due to its size being like that of the non-electric Taos.
Pretty soon the car won the prestigious World Car of the Year for 2021 award as chosen by 24 motoring journalists around the world.
Unlike many people's expectations of an electric car, the ID.4 is said to drive like the Golf GTI.
Originally the model was rear-wheel-drive only with the electric motor in the rear of the car, a four-wheel-drive version is expected soon.
Apple CarPlay and Android Auto are included in the car as standard but the augmented reality heads-up display is currently optional.
An efficient heating system that recycles waste heat from the electric motor is available as an option or as standard if purchasing the car in Canada.
In 2021, VW announced a coupe version of the ID.4 that they were going to release in the following year called the ID.5.
The ID.5 boasts a more aerodynamic body shape that helps it achieve more efficient use of the electricity onboard (roughly 7% better).
This improvement does come at a cost in the form of reduced luggage space as the sloping rear roof cuts into the boot.