2022 Volkswagen ID.4 Owner's Manual
---
You can view the 2022 Volkswagen ID.4 Owner's Manual further down the page underneath the image of the cover.
Clicking on the "view full screen" button will take you to a full screen version of the manual.
Manual Cover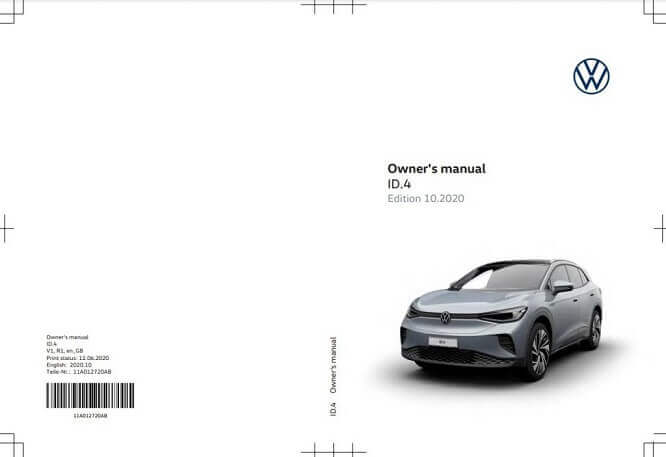 2022 ID.4 (incl. ID.5)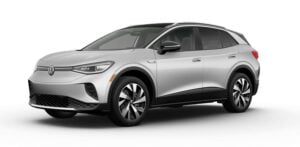 This 2022 model of the Volkswagen ID.4 is one of the first few hundred thousand to roll off the production line.
It and its sibling model the 2022 ID.3 have quickly made their mark in the all-electric car world.
For 2022 both of those lines have been given a range of new trims, colors and upgradable options to aid customization.
This ID.4 is classed as a compact crossover SUV and was only put into production in 2020, a year after the ID.3.
The ID.3 is a compact car and uses the same chassis as this model, albeit with a smaller body.
You are able to buy the ID.4 with the choice of 3 drivetrain setups, each with varying amounts of battery storage and electric motor sizes.
The base model is the Pure trim and can travel 215 miles on a full charge, reaching 60 miles per hour in 9 seconds.
On the other end is the top trim (the Pro Performance) with a 324-mile range and 5.7 seconds 0-60.
For 2022 a new assembly plant was opened in Tennessee to produce the ID range of electric cars closer to the most lucrative auto market on the planet.
If you are contemplating buying a 2022 ID.4 then check out the official owner's manual.
A copy of that manual is stored on this site in PDF format, freely availably to anyone who wants to access it.