Alfa Romeo 147 Owner's Manual
---
You can find 11 different owner's manuals for the Alfa Romeo 147 on this page that are in the PDF format.
Yearly 147 Owner's Manuals
The years available stretch from 2000 through to 2010 and to view the manual you just click the name underneath.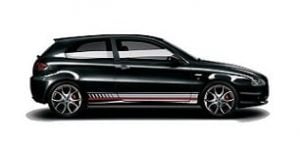 About The 147
When the Alfa Romeo 147 was brought in during the year 2000 it replaced two lines at the Italian automaker.
Gone was the 3-door 145 and the 5-door 146 built on the older "Type Two" platform that was also used under the original Lancia Delta and Fiat Tipo.
This new model was built on the newer "Fiat C" platform that could also be found at work under the Alfa Romeo 156 and the Alfa Romeo GT.
It was classed as a small family car like the VW Golf and the Ford Focus – seating 5 comfortably with room for some cargo.
Receiving much praise for its design, the 147 was based on the Visconti concept car with it remaining very close to the original design.
Inside of the production car was premium modern features such as dual-zone climate control and electronic traction control.
It also boasted a satellite navigation system that was displayed through a center console – a very premium feature for the time.
Alongside the bountiful standard features were the vast special editions of the Alfa Romeo 147 made available during its ten-year run.
The main performance trim offered by the sporty automaker was the GTA, featuring a 3.2-liter V6 engine and a wider body.
Putting this extra power to the ground was wider than normal tires and an electronic manual gearbox.
The GTA could reach speeds in excess of 150mph and reach 60mph in just over 6 seconds.
Another performance variant that caught people's attention was the 147 GTD.
This GTD model featured a diesel engine (a rare sight in performance trims but could also be found in the performance version of the Skoda Fabia vRS) and a limited-slip differential.
When the 147 was retired in 2010 it was replaced with the Giulietta, a model that shares its platform with the Chrysler 200 and the Dodge Dart.