Alfa Romeo 156 Owner's Manual
---
You can find 11 different owner's manuals for the Alfa Romeo 156 on this page that are in the PDF format.
Yearly 156 Owner's Manuals
The years available stretch from 1997 through to 2007 and to view the manual you just click the name underneath.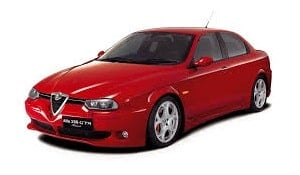 About The 156
When Alfa Romeo launched the 156 in 1996 they intended for it to replace the 155.
The 155 was a popular model that found fame in motorsport and shared its platform with the Lancia Dedra.
This new 156 model was built on a revised platform that was shared with the 147 when it was released in the year 2000.
By this time the 156 had already been out for four years and the platform had been tried and tested on the 147 as well as in a basic form under the Fiat Bravo/Brava.
Although a station wagon design was put together for its predecessor the 155 it was never manufactured, this 156 did, however, get that body style.
Marketed as the Sportwagon, it was also offered in the various performance trims as well as the standard saloon type.
You could get both styles as the standard trim or the performance GTA and the Q4.
The GTA boasted a 3.2-liter V6 engine which was described as having an incredible sound thanks to its high-revving capabilities.
Alongside this was the Q4, a performance four-wheel-drive model that featured limited-slip-differentials that helped deliver the high-torque 1.9-liter turbodiesel's power to the ground.
Alfa Romeo is known for its sporty models and this range is true with this 156, it featured double-wishbone suspension on the front as standard for the best handling possible.
Its chassis was lightened by using magnesium in its construction as well as aluminum parts in the suspension.
After the 156 was retired in 2007 the 159 followed four years later in 2011 as its replacement.
This 159 was built on the newer "Premium" platform that was developed by Saab but never used by the Swedish automaker.
The 159 would go on to sell around a quarter of a million models, failing to get anywhere near the 673,000 that the 156 sold during its 11-year reign.