You can find 14 different owner's manuals for the Audi A7 on this page that are in the PDF format.
Yearly A7 Owner's Manuals
The years available stretch from 2010 through to 2023 and to view the manual you just click the name underneath.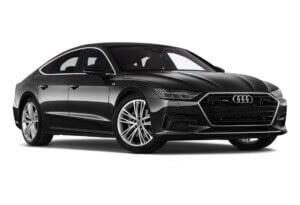 About The A7
In 2010 Audi introduced the A7 model that featured a liftback body style that the German company markets as the Sportback.
Alongside this stylish smooth design are four frameless doors and a premium interior.
The vehicle is loaded with high-tech features and can be quite confusing without instructions.
Luckily, Audi has covered them completely in the owner's manual available here on this site as PDFs.
First-generation A7's were built on the generic MLB platform used across many Volkswagen brands in such models as the A5 and Q5.
A wide range of engine options was available from the sensible 1.8-liter turbocharged through to the sporty 4-liter turbocharged.
Mated to these engines were either a 7 or 8-speed transmission powering the front or all four wheels.
As you would expect with the premium German automaker the car was fitted with plenty of driver-aids such as active-lane-assist and automatic high-beam.
Moving into the second generation the 2018 Audi A7 was now being built on a platform designed for more premium models including the A6 and Q7.
Engine and transmission options were relatively the same but now customers could opt for a mild-hybrid or plug-in hybrid drivetrain to improve fuel economy.
The most recent top-of-the-line RS7 can produce almost 600bhp that is delivered to all four wheels through the company's Quattro system.