You can find 13 different owner's manuals for the Audi A6 on this page that are in the PDF format.
Yearly A6 Owner's Manuals
The years available stretch from 2011 through to 2023 and to view the manual you just click the name underneath.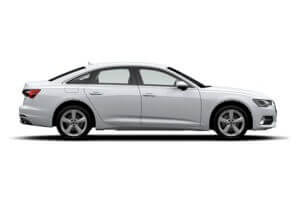 About The A6
The Audi A6 is an executive car that entered production in 1994 and is still going strong to this day.
It sits towards the top of the sedan range from the German automaker with the A8 and the Q8 sat at the top.
This owner's manual will give you detailed instructions on everything from driving tips, to engine repair in your A6.
A wide range of engines, trims and gearboxes have helped the car be adapted by customers to their needs.
Sensible options include the modest 1.8-litre petrol and the range continues through to the latest outrageous RS6 pushing almost 600bhp to the wheels.
When the car was brought in to replace the Audi 100 it looked very similar with the exterior styling receiving a bit of an improvement to bring it into the 1990s.
The biggest change from the old car was that the Audi A6 was safer, scoring a fantastic 5 out 5 stars with Euro NCAP.
A change in name was also needed after a series of investigations by safety officials over cases of the 100 model "accelerating on its own" which was put down to the orientation of the pedals.
A6's are front-wheel drive as standard but some models employ the Quattro four-wheel-drive system, such as the performance RS6 trim.
Much like the A4 and Q5 the car's RS trims sell very well and allow supercar-like performance for a lot smaller price than a flamboyant super-car dedicated model like a Ferrari.
A range of less extreme performance versions of the car are also available labeled "S6" which feature light exterior and engine upgrades.
In 2012 the A6 hybrid trim was added to the order sheet and customers could now capture the lost energy from braking and recycle it during acceleration.