About Audi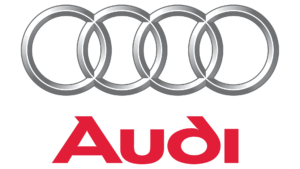 Part of the worlds biggest car brand Volkswagen, Audi are known as a high quality producer of modern cars.
Customers of the Audi brand know that they can expect high levels of comfort, reliability and style in the price that they pay.
The Audi company was formed by the merger of 4 other auto manufacturers during the early parts of the 20th century, going through several re-brand's.
The original 4 ring logo represents the 4 major brands that were merged to form the initial Audi company.
Audi have a deep history in motor-sport, being feared in many different disciplines such as the World Rally Championship, BTCC and at Le Mans.
The company ensures that it remains a key player on the automotive stage worldwide through their heavy investment in technology. On average the company spend around $5b per year on new technology, making it near impossible for a small company to get close to what they have achieved.
Audi Q5
The Audi Q5 is a popular sight on American roads in recent years as more and more people flock to compact crossover SUV's like this one.
Now in its second generation the car is available in a variety of trims with engine sizes ranging from 2 litre through to 3 litre with fitted turbocharger.
Audi A4
The compact executive car Audi A4 comes in many different trims and engine sizes.
You can even find a high performance version called the RS4 that features an engine outputting close to 45obhp on modern examples.
Audi A3
A common sight on many roads across the Western world is the Audi A3, an affordable small family car.
It's smaller than its bigger brother the Audi A4 and is classed a subcompact car.
Modern examples share their platform with Volkswagen Golf and Audi Q2.