You can find 11 different owner's manuals for the BMW X4 on this page that are in the PDF format.
Yearly X4 Owner's Manuals
The years available stretch from 2014 through to 2024 and to view the manual you just click the name underneath.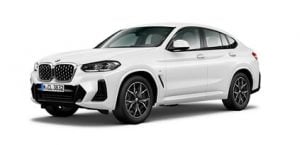 About The X4
The BMW X4 is a more compact version of the company's pioneering sports-coupe SUV design — sometimes called a Sports Activity Coupe, or SAC — the BMW X6. The X4 was launched in 2014 for the 2015 model year, and continues to be produced today, though now already into its second generation.
As a 5-door coupe SUV, the BMW X4 has a lot in common with its larger sibling the X6, especially the sloping rear roofline. In terms of its size and scale, however, it's a lot closer to the X3, sacrificing some of the SUV utility in order to achieve the coupe look that has become so popular with luxury SUV buyers.
The first-generation X4 models were powered by 2-liter and 3-liter engines, the former 4-cylinder and the latter 6-cylinder. Both displacements and cylinder accounts covered gasoline and diesel engine options. These powertrains are paired with either 6-speed manual or 8-speed automatic transmissions.
From the beginning, the X4 was offered with a very pleasing range of equipment, including a fuel-saving start-stop system, and even brake energy regeneration. Buyers could also choose to have a cutting-edge driver head-up display (HUD) installed, as well as a new stiffer suspension, 19-inch alloys, and a sports exhaust.
The second generation brought the same powertrain choices, but dropped the manual transmission option. In addition, it got bi-LED headlights as standard, as well as a powered automatic tailgate. Buyers also had the option to install M performance parts such as carbon fiber side mirrors on all three of the main trim levels, but for M-specific parts, they had to upgrade to the M variant.
While some cargo space and utility are sacrificed in the X4 — as it is in the X6 — the interior is nonetheless packed with BMW's signature style and sophistication. Soft-touch and high-quality materials abound, and legroom front and rear is generous. Headroom for very tall passengers in the rear can feel lesser because of the sloped roof, but the X4 still offers decent dimensions.