BMW 8 Series Owner's Manual
---
You can find 12 different owner's manuals for the BMW 8 Series on this page that are in the PDF format.
Yearly 8 Series Owner's Manuals
The years available stretch from 2018 through to 2023 and to view the manual you just click the name underneath.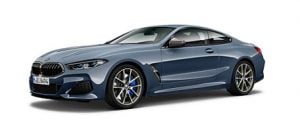 About The 8 Series
The BMW 8 Series is one of those car series that was well-known as part of the wider BMW family in the 1990s but then disappeared from view for a long time. It then returned to the road in 2018 in a blaze of glory, standing once again as BMW's most premium, luxurious grand tourer coupe and convertible model.
The 8 Series has been marketed as a 2-door coupe and convertible, as well as a 4-door coupe at times. When it was first introduced in 1990, it was under the E31 model code, and was the first road car made by BMW to offer a V12 engine as its main powertrain, paired with a 6-speed manual transmission. Another key technology that was pioneered in the 8 Series was multi-link rear axle technology.
The E31 was discontinued in 1999, but a second generation known by the model code G14 was announced in the summer of 2018, going on sale later that same year. The new series included a convertible (G14), a coupe (G15), and the 4-door Gran Coupe model (G16). The revived BMW 8 Series was built to compete with the likes of the Mercedes-AMG GT, and the Porsche 911.
The new models received their first big facelift in the 2022 model year, getting a new illuminated kidney grille, and a huge 12.3" infotainment screen on the interior instead of the previously standard 10.25" unit. Positive reviewers pointed to the car's smooth, quiet ride and responsive handling despite its larger size. Detractors claim that while resplendent and sumptuous in its finishes and performance, visibility from the car isn't always ideal.
With pricing at the time of writing starting at $86,500, and going up to $145,000+ for the Alpina B8 gran coupe model, it's hardly a budget-friendly machine, but then again it's not marketed as such.