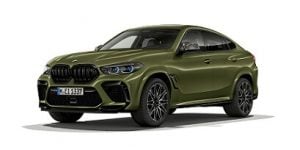 About The X6
For many years now, there has been a trend in offering midsize to large crossover SUVs that bring together elements of both an SUV and a coupe. Some OEMs call these "fastback" designs, but whatever they're called, the BMW X6 was one of the earliest and best examples. In fact, the BMW X6 is known as the originator of the "Sports Activity Coupe" or "SAC" sub-category.
Longer than the oldest surviving crossover SUV from BMW the X5, it also sits underneath the larger X7.
Up front, it carries many of the same styling points as other members of the BMW X-Series family of SUVs, but it's when you regard the profile and the rear-end designs, you see the biggest difference. The sloping rear roofline of the BMW X6 is what really defines this SUV, and has been doing so since its launch back in December 2007.
The X6 has been through 3 model generations so far, the first running from 2008 to 2014, the second from 2015 to 2019, and the third from 2020 to the present. Besides being a pioneer in SUV design, the X6 was also the first vehicle to receive BMW's Dynamic Performance Control system, or DPC for short. The DPC system was designed as a traction control and torque distribution system to regulate both over- and under-steering.
The BMW X6 was also the host vehicle for BMW's first full-hybrid vehicle, the BMW Concept X6 ActiveHybrid, first revealed at the Paris Motor Show in 2008. It made use of a 4.4-liter N63 V8 twin-turbo engine paired with an electric motor. Together they produced 479hp and 575 lb-ft of torque.
As for the regular gasoline X6 models, they were powered by 3-liter 6-cylinder engines with turbos as standard, with other variants also available depending on which model variant one chose. Those buying the latest third-gen models also enjoy cutting-edge equipment such as laser headlights, an illuminated front kidney grille, heated/cooled cup holders, two 12.3-inch digital displays, and the very latest BMW air suspension.