Cadillac STS Owner's Manual
---
You can find 7 different owner's manuals for the Cadillac STS on this page that are in the PDF format.
Yearly STS Owner's Manuals
The years available stretch from 2005 through to 2011 and to view the manual you just click the name underneath.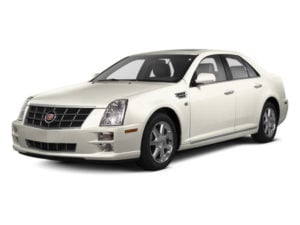 About The STS
Since the first model rolled off the production line in 2004 in the USA, the Cadillac STS remained the companies flagship sedan in the USA until 2011.
The model was released in China in 2006 and sold slightly later than in the USA until it was discontinued in 2013 for that region.
Taking over from the Seville, the car was eventually taken over by the CTS and XTS lines by Cadillac.
Although its predecessor the Seville was a front-wheel-drive the designers decided to take the line back to the more popular rear-wheel drive orientation.
An option was available to buyers (2005 onward) to have the car as an all-wheel-drive if requested and the companies popular comfortable magnetic suspension was added as standard too.
The car has undergone many changes throughout its lifetime, including an updated interior design, powertrain upgrades and the addition of new features.
If you are considering buying or leasing a Cadillac STS, we recommend reading these owner's manuals thoroughly to ensure you know what to expect from your new vehicle.
Engines varied wildly from a modest 2.0-liter to a supercharged 4.4-liter V8 producing 469bhp for those looking for a bit more excitement (sold as the STS-V version).
Transmissions were always automatic in the form of 5 or 6 gears and trim options included:
Luxury
Luxury Sport
Performance
Premium
V