Cadillac XT5 Owner's Manual
---
You can find 7 different owner's manuals for the Cadillac XT5 on this page that are in the PDF format.
Yearly XT5 Owner's Manuals
The years available stretch from 2017 through to 2023 and to view the manual you just click the name underneath.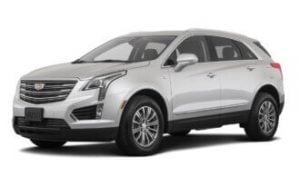 About The XT5
Beginning production in 2016, the Cadillac XT5 is a luxury compact crossover SUV that replaced the SRX model from the same manufacturer.
These owner's manual PDFs will help you get acquainted with your new XT5 by providing important information that can be useful both on the road or at home.
This XT5 is the best-selling Cadilac on the market and is taking advantage of the boom in luxury SUV sales happening worldwide.
The car features cutting-edge technology such as a video camera-powered rearview camera and a high-precision computer-controlled automatic transmission for fast smooth gear changes.
For a full rundown of the technology on board the car, as it progresses through the years, you can check out the Cadillac XT5 owner's manual collection on the left of this description.
Buyers only have one choice of engine in the USA, a V6 featuring automatic stop and start technology to reduce wasted fuel.
In China, customers are able to choose a 2-liter turbocharged engine to get past the taxes imposed on large engine cars.
The standard XT5 comes with not only a front-wheel-drive layout but also a four-wheel-drive layout as an option with special rear differential technology for maximum traction.
The 2020 face-lift changed very little of the exterior appearance but made improvements under the hood and allowed American customers to opt for the 2-liter turbo engine that was restricted to China previously.
When ordering one of these 2020 models, customers could opt for one of four different trim levels for their car including:
Luxury
Platinum
Premium Luxury
Sport
You can see the changes made to the car by reading the Cadillac XT5 manual for that year in the list on this page.