Cadillac Escalade Owner's Manual
---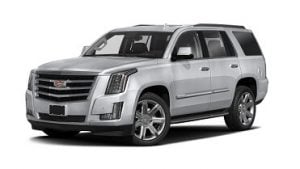 About The Escalade
The Cadillac Escalade is a full-size SUV manufactured by GMC for the North American and Canadian markets.
It was the first SUV on the market from Cadillac who is known for its luxury models and no expense has been spared in the production of these cars.
Other full-size SUVs on the market that it competes with include the Jeep Grand Cherokee and the Chevrolet Tahoe.
Original examples of the Escalade were first produced in 1998 from the manufacturing plant in Texas though since then some have been built in Russia and Mexico for new markets.
It was created as an alternative to the Lincoln Navigator and offers many of the same features, but at a much lower price.
These owner's manuals will provide you with information about how to operate your vehicle and answer some of your most common questions so you can get back on the road quickly.
The car has always been available as a four-wheel drive with the option of having a rear-wheel drive only for those who don't expect to be needing off-road capability.
Engine options over the years have always been V8 only though you can opt for gasoline or diesel and a manual transmission doesn't seem to have ever been available for the Escalade.
As you would expect from a luxury car manufacturer the technology in this car has always been cutting edge.
The latest model of Escalade contains many entertainment features (video and mobile device connectivity) as well as comfort features such as magnetic ride control.
You can choose the level of luxury and features within your model by selecting an appropriate trim when purchasing the car, the current options are:
Luxury
Platinum
Premium
Premium Luxury
Premium Luxury Platinum
Sport
Sport Platinum
An EXT version of the Escalade that was released in 2001 adds a pickup truck bed to the back of the SUV creating a luxury pickup truck, sales were never outstanding for these variations.
A full-electric version of the car has been planned for 2025 with the platform being the one used on the Hummer EV also planned for the same decade.