Chevrolet Blazer Owner's Manual
---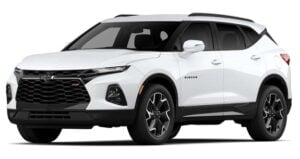 About The Blazer
The Chevrolet Blazer name traces its roots back to the original sporty off-road truck from the early 1980s.
Today, the Blazer has been revived as a modern mid-size SUV that's less off-road orientated and more luxurious and practical for families.
Original Blazer's (1983 through to 1994) were available with a wide range of engines from a modest 2 litre inline-4 through to a 4.3 litre V6 with the choice of an automatic or manual transmission.
The second-generation model that was delivered to customers in the 1995 model year lost the varied choice of engines and transmissions and focused on what sold well.
With the 2nd generation redesign came a more rounded "sporty" look and a wide range of trims for customers to choose from, including:
L
LS
LT
Premier
RS
Trailblazer
Xtreme
The Trailblazer was introduced in 2002 as a replacement and the next logical move towards a more all-around SUV and customers swiftly moved towards that model.
Then in 2018 production of the Blazer began again with customers getting first delivery in the model year 2019 of the new CUV.
Underneath these new models were the same platform that is shared by the GMC Acadia and the Cadillac XT5.
Power in the new vehicle is provided by a range of smaller displacement engines for the Chinese market and a 3.6 litre V6 for North America.
The power is transferred to the road by a 9-speed automatic transmission and customers are able to choose between a front-wheel-drive or a four-wheel-drive layout.
On Chinese models, you will find some of them have 3 row's of seats and sport a longer, more "stretched out" appearance.
The best way to stay up to date with what your Chevy Blazer can do is to read the owner's manual.
Various years are covered in the manual PDFs that are linked to from this page, just choose the appropriate model year from the list.