Chevrolet Sonic Owner's Manual
---
You can find 6 different owner's manuals for the Chevrolet Sonic on this page that are in the PDF format.
Looking For Mechanical Information?
An owner's manual is usually packed with guides on how to operate the car safely and how to maintain it.
If you require mechanical information (for fixing the car yourself for example) then you may need a workshop, service or repair manual instead.
Chevrolet Sonic Service Manuals »

Yearly Sonic Owner's Manuals
The years available stretch from 2012 through to 2018 and to view the manual you just click the name underneath.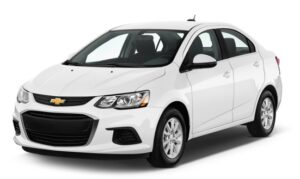 About The Sonic
The Chevrolet Sonic was the new name applied to the Aveo line after 2011 for the 2012 model year in the North American and Asian markets.
These owner's manuals will help you with everything from understanding your warranty to how you can use this car safely.
They start by going over the basics of the vehicle and then move on to more advanced topics in subsequent sections.
This subcompact car was primarily a 5 door hatchback but a 4 door sedan version was also available in the USA.
It was built on the same platform as the Chevrolet Trax, Buick Encore and Chevrolet Spark.
Engine choices range from 1.2 to a 1.8 litre gasoline or a 1.3 turbocharged diesel mated to a 5 or 6-speed manual or 6-speed automatic transmission.
A performance level RS trim adds dark-colored alloy wheels, body kit and rear wing spoiler – powered by an uprated 1.4 litre engine.
For those not interested in the high-performance trim they could opt for one of the following:
In 2016 the Sonic got a face-lift which improved the exterior styling and added new equipment inside the car.
For Canada, the car was discontinued in 2018 and then South Korea in 2019. Eventually, in late 2020 the car was fully discontinued elsewhere in the world with no plans for a replacement.