Chevrolet Traverse Owner's Manual
---
You can find 14 different owner's manuals for the Chevrolet Traverse on this page that are in the PDF format.
Looking For Mechanical Information?
An owner's manual is usually packed with guides on how to operate the car safely and how to maintain it.
If you require mechanical information (for fixing the car yourself for example) then you may need a workshop, service or repair manual instead.
Chevrolet Traverse Service Manuals »

Yearly Traverse Owner's Manuals
The years available stretch from 2009 through to 2023 and to view the manual you just click the name underneath.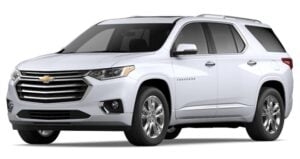 About The Traverse
Built by General Motors, the Chevrolet Traverse is a full-size SUV built on the same platform as the GMC Acadia and Buick Enclave.
These owner's manuals have information on how to get started, what's in the vehicle, safety features and more.
You can find out everything about this car by reading through these manuals, just choose the correct year from the list on this page.
The car has evolved through 2 generations of design since it was first released to the public in 2008 and during that time the car has shrunk slightly making it more of a mid-sized SUV.
Originally the car had just one option of an engine, a 2.6-liter V6 gasoline mated to a 6-speed automatic transmission.
Then with the second-generation Traverse customers were able to choose a 2-liter turbo gasoline engine instead for a more sporty driving experience.
This second-generation model was also stuck with just one transmission like the 1st, though this time it was a 9 speed automatic.
As a customer buying a Chevrolet Traverse you can choose from a wide range of trims ranging from the entry-level "L" through to the sporty "Redline Edition".
The least expensive option comes with an impressive range of features as standard in the way of safety, comfort and technology.
RS and Redline Edition trims push the boat out with aluminum alloy wheels, tinted windows and more aggressive styling.
You can also find non-performance trims on offer for the SUV too such as:
High Country
L
LS
LT
LTZ
Premier
Sales of the Traverse have been steadily increasing year-on-year with the new face-lift versions bringing a burst of new sales.
FAQ's
Q: What problems do Chevy Traverse have?
A: According to research, the most common problems reported by Traverse owners relate to the steering and engine.
---
Q: What is difference between Traverse LS and LT?
A: The LS trim can seat up to 8 passengers whereas the LT can only fit 7 passengers inside the car.
---
Q: How long will a Chevrolet Traverse last?
A: If properly maintained and serviced, the Traverse can last up to 200,000 miles.
---
Q: Does Chevrolet Traverse hold its value?
A: When compared to other similar cars in the crossover SUV segment of the auto market it tends to lose its value slightly faster than average.
---
Q: Is Chevy discontinuing the Traverse?
A: The Traverse model is still going strong and is due to receive a face-lift in 2022, originally planned for 2021 but pushed back due to the Coronavirus.