Chrysler Sebring Owner's Manual
---
You can find 20 different owner's manuals for the Chrysler Sebring on this page that are in the PDF format.
Yearly Sebring Owner's Manuals
The years available stretch from 2001 through to 2010 and to view the manual you just click the name underneath.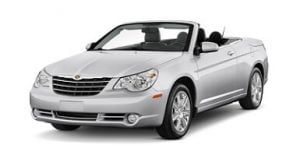 About The Sebring
Enjoying a long production run from 1994 to 2010, the Chrysler Sebring is a marque used for a line of mid-size coupes and convertibles — and later sedans — marketed as executive cars. The first model in the line was the 1995 Chrysler Sebring coupe, with the first convertible being introduced in 1996. The Sebring line was first created as a replacement for the outgoing Chrysler LeBaron.
The coupe-convertible binary endured for the first-generation models, but in 2001 Chrysler revamped the series with a second generation, introducing a new body design that also incorporated a sedan model that would replace the Chrysler Cirrus. The Sebring was refreshed once again in 2007 in a third and final model generation.
As is quite typical with American-brand cars of this era, the number of engine options across the three generations of Chrysler Sebring models was fairly impressive. The most basic powertrain is a 2-liter 4-cylinder gasoline engine, but larger powertrains, including V6 options were made available from the first generation. By the time of the release of the third generation, the largest powertrain offering included a 3.5-liter V6 engine that could deliver up to 235 horsepower.
Chrysler tried to launch the third-gen models in Europe to compete in the potentially lucrative D-segment (large sedan/convertible) segment. However, when put up against the likes of Mercedes-Benz and BMW, the reviewers in Europe were not so kind. The best star rating (out of 5) that the Sebring was able to garner in the discerning European market was 3.5.
Sales of the Sebring — especially the 2007 model — were generally good in the US, but Chrysler struggled to find markets outside where gasoline was more expensive. The 16-28 mpg fuel economy range of the Sebring models was another difficulty for markets in Europe, for instance. Despite these setbacks, it remains an iconic American convertible model, popularized in 2005 for its use in the TV series "The Office" as the chosen company car of manager Michael Scott, played by Steve Carell.