Citroën C4 Aircross Owner's Manual
---
You can find 6 different owner's manuals for the Citroën C4 Aircross on this page that are in the PDF format.
Yearly C4 Aircross Owner's Manuals
The years available stretch from 2012 through to 2017 and to view the manual you just click the name underneath.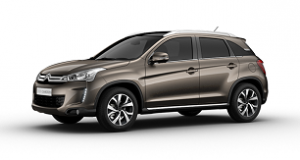 About The C4 Aircross
The C4 Aircross is a subcompact crossover SUV created by the French car manufacturer Citroen and is the sister vehicle to the Mitsubishi ASX and Peugeot 4008.
This C4 Aircross debuted at the Geneva motor show in 2012 and lifted the 'C4' label from other cars in a similar range like the C4 Picasso and C4 Cactus. Citroen decided to make this model a left-hand drive only, meaning that no sales were made in the UK and Ireland, mainly due to the popularity of the Peugeot 3008 in these countries, Citroen didn't want to cannibalise this model. Instead, the C4 Aircross was sold in a number of countries such as most of Europe, China, Morocco, New Zealand, Romania, Russia and South Africa.
Three trims were available, Attraction, Comfort and Exclusive. The Attraction had 7 series airbags, manual air conditioning, MP3 players and electric mirrors. The Comfort, in addition to the benefits of the Attraction, also had cruise control, automatic climate control and alloy wheels; and the Exclusive had front and rear camera assist, GPS tracking and heated front seats.
The C4 Aircross suffered through a recall between the years 2012 – 2013 due to a fault on the tailgate springs, this was closely followed by yet another recall, this time it was found that the windscreen wiper motors would fill with water and eventually seize.
The C4 Aircross was a front-engine vehicle with the choice of either front-wheel drive or all-wheel drive. Built on the Mitsubishi GS Platform, two petrol engines were offered, a 1.6-liter and a 2-liter, and two diesel, 1.6-liter and 1.8-liter. In terms of transmission, there was a 5-speed manual, 6-speed manual, 6-speed automatic and a 6-speed INVECS-III CVT.