Peugeot 3008 Owner's Manual
---
You can find 12 different owner's manuals for the Peugeot 3008 on this page that are in the PDF format.
Yearly 3008 Owner's Manuals
The years available stretch from 2012 through to 2023 and to view the manual you just click the name underneath.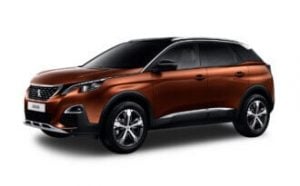 About The 3008
Customers got first delivery of their Peugeot 3008's in 2009 and sales ever since have risen every year steadily.
The car was a replacement for the 4007 and 4008 models, the idea was to combine them into this ideal compact crossover SUV.
What makes it a crossover SUV is that it looks and feels like a traditional SUV but lacks the heavy off-road equipment you would find on a Jeep Wrangler for example.
Close inspection underneath the body of the 3008 will lead you to find that it's actually a shorter version of the Peugeot 5008.
The 3008 boasts a number of innovative safety features, including an airbag deployment indicator.
If you are looking for a car to purchase or lease, then take a look at these owner's manuals to see if this is the right car for you.
Unlike the 5008 this SUV has just 2 rows of seating and thanks to its smaller size a slightly better fuel economy.
In 2012 the 308 gained a plug-in hybrid option for customers that could be wall charged and also captured lost energy during braking and then recycled it in 4 different ways:
Running on pure electricity alone for short journeys
A sport mode that helped the car drive faster
Four-wheel drive mode that uses fuel driving power for one axle and electricity for the other
Automatic, the car decides whats the most economical for current driving conditions
This SUV was also the first production car to offer a hybrid-diesel combination as most car manufacturers relied on petrol-hybrid combinations.
Safety ratings awarded by Euro NCAP have always been very positive for the 3008 with the car scoring 5 out of 5 stars.
When the second generation model hit the showrooms in 2016 customers found it a much more stylish SUV with a fully digital interior.
Engine choices had also been revised for the 2nd generation Peugeot 3008 with several new options to help the car sell in the Chinese market.
Although you had less choice when it comes to the engine you still had 7 trims to choose from such as:
Active
Allure
Allure Premium
GT
GT Line
GT Line Premium
GT Premium
A year later the car received a flurry of awards from multiple publications describing it as "car of the year" by 3 of them and "best medium SUV" by another.