Mitsubishi RVR/ASX Owner's Manual
---
You can find 13 different owner's manuals for the Mitsubishi RVR/ASX on this page that are in the PDF format.
Looking For Mechanical Information?
An owner's manual is usually packed with guides on how to operate the car safely and how to maintain it.
If you require mechanical information (for fixing the car yourself for example) then you may need a workshop, service or repair manual instead.
Mitsubishi RVR/ASX Service Manuals »

Yearly RVR/ASX Owner's Manuals
The years available stretch from 2011 through to 2023 and to view the manual you just click the name underneath.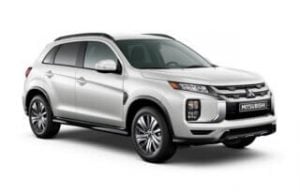 About The RVR/ASX
Tracing back the Mitsubishi RVR name to its origins you will find that it was released as a compact MPV in the early-1990s.
MPVs of all sizes were exploding in sales during the 1990s but as the new Century came into effect the sales dropped quickly.
Due to this, the RVR was put to rest in 2002 and then 8 years later in 2010 it was brought back to life but this time as a subcompact crossover SUV.
Most automobile manufacturers switched their MPV models over to the crossover SUV market which is a niche that continues to grow to this day.
This revived RVR shared very little with its ancestor and instead was built on the same platform as the Citroen C4 Aircross and Mitsubishi Eclipse Cross.
It did however come back with a bang and customers could choose from one of seven engines, gasoline or diesel.
Outside of Japan, Canada and South Korea, the car was marketed as the ASX. In the United States, Argentina and Indonesia, the car is known as the Outlander Sport.
Sales of the subcompact crossover SUV have been incredible with 2014 seeing over 200,000 units sold worldwide for the first time.
Inside the car boasts high-tech features such as a touchscreen infotainment system and smartphone connectivity.
You can learn what features you can expect to get in your Mitsubishi RVR/ASX by reading through the official owner's manual.
On this page you will find links to the various years that the car was manufactured, clicking these will then show you the appropriate PDF version of the manual for that year.