Citroën C5 Aircross Owner's Manual
---
You can find 7 different owner's manuals for the Citroën C5 Aircross on this page that are in the PDF format.
Yearly C5 Aircross Owner's Manuals
The years available stretch from 2017 through to 2023 and to view the manual you just click the name underneath.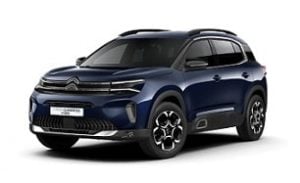 About The C5 Aircross
The C5 Aircross is a compact crossover SUV developed and manufactured by the French car automaker Citroen. Following the showcase of the concept car at the Shanghai Auto Show in 2015, the real production model debuted at the Geneva Motor Show.
It was built at the PSA Groups main factory in Rennes and took advantage of the 100 million euro investment share of the PSA Group.
CEO Linda Jackson was the first to announce the C5 Aircross, doing this in a less than conventional manner by taking to Twitter to share her sketches and design ideas for the car. She championed the vehicle to represent the 'idea of the future of SUVs' and confirmed the name indeed would be the C5 Aircross, which was somewhat of a surprise as it had previously been thought that the name badge would be exclusive to the Chinese market only.
The C5 Aircross is the successor of the C4 Aircross and was built to be a wholly larger vehicle so that it could rival the likes of the Nissan Qashqai. Citroen was careful to not pull sales away from the C4 Picasso, C4 Cactus or the Peugeot 2008, and so ensured that the C5 Aircross was just different enough to appeal to a new demographic. Citroen employed their 'advanced comfort program' which focused on large internal space and interior luminosity which was achieved by adding a panoramic glass sunroof.
Other features included were a 12.3-inch digital dashboard, automatic emergency braking, blind spot monitoring, lane keep assist, traffic sign recognition, adaptive cruise control and an 8-inch HD touchscreen.
Two petrol engines were released for the European market along with two diesels, the former 1.2-liter producing 130 hp and 1.6-liter 180 hp, and the latter 1.5-liter 130 hp and 2-liter 130 hp. All were coupled with the choice of either a 6-speed manual gearbox or 8-speed automatic transmission.